ARTIST IN RESIDENCE
ReGen Monterey and the Visual and Public Art (VPA) Program at California State University Monterey Bay (CSUMB) have teamed up to create an Artist in Residence Program. Beginning in January 2016, the collaborative partnership has allowed VPA students to salvage for discarded materials and upcycle them into art.
The partnership will draw upon the expertise of CSUMB VPA faculty, who will mentor the student participants. ReGen Monterey and Last Chance Mercantile will provide access for material salvaging and a space to create and exhibit their artwork. VPA artists will work and create in the yard at Last Chance Mercantile, providing the general public the opportunity to watch and engage with the artists.
Program Mission:
To educate and inspire the general public on the importance of repurposing, recycling and reusing discarded materials.
To create a professional platform for CSUMB VPA students to conceptualize, manage and produce a body of work using discarded materials.
To create community partnerships with schools, art centers and other nonprofit organizations to encourage dialogue on the importance of environmental issues.
Spring 2023 Student Artist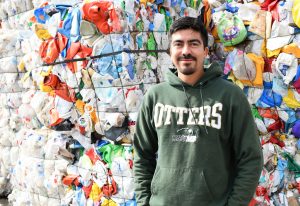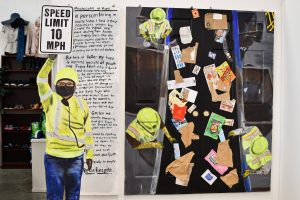 "I'm excited about the opportunity to make sustainable art from recycled and salvaged materials. After learning about the roles ReGen Monterey and Last Chance Mercantile play in improving our community and environment, I wanted to be able to educate and inspire my audience to reduce and reuse their own excess materials in order to protect our environment." – Jesse Villarruel, 2023 ReGen Monterey Artist in Residence
Jesse Villarruel is a multidisciplinary artist from San Diego, California, specializing in painting, drawing, sculpting and poetry, all of which he hopes to incorporate into his art installation. According to Villarruel, his art is "inspired by the people, environment and stories that surround us," especially "stories of people who overcome great obstacles." Recent artwork includes paintings and roadside murals of farmworkers in the Salinas Valley, along with a mural depicting scenes from Monterey County on a CSUMB building. Villarruel is currently at work in his Last Chance Mercantile studio painting scenes and workers from ReGen Monterey's Materials Recovery Facility and the natural landscapes that surround the site. He will graduate with a B.A. in Visual and Public Art from CSU Monterey Bay in May. He received part of his art training at Southwestern College in Chula Vista, California.
"Jesse has a special eye for illustrating the beauty of our region and the hard work of essential workers in Monterey County. He is an excellent choice for inspiring people to protect the environment and celebrate our community." – Felipe Melchor, general manager of ReGen Monterey
Spring 2022 Student Artist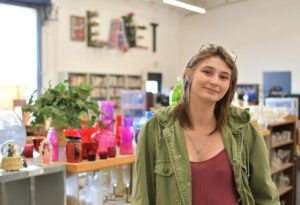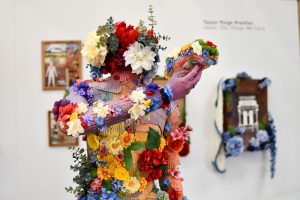 My name is Taylor Paige, and I am a mixed media artist from Los Angeles. I work with digital art, photography, illustration, sculpture, and anything I can get my hands on. The unique and ever changing L.A environment influenced my work to include urban imagery, bright colors, diversity in culture, and community.
I use my art to display and challenge social issues among other things. Critical thinking, reflection and education play a large role in the dialogue I am creating with imagery ranging from playful to serious. The purpose of my work is to navigate my own experiences, help others navigate their experiences. As well as evoke emotion and bring awareness with the use of surrealism, escapism, and nature.
During my time at the residency, I will create a series of works exploring the idea of home, metamorphosis and how they are one of the same. This series will also be tied into my senior capstone, which is exploring metamorphosis in people and the mind.
Home is different for each person and is constantly changing. These pieces are meant to challenge the audience's idea of home, while connecting to individuals who don't have traditional homes.
View Taylor Paige Prentiss' Artist in Residence 2022 installation portfolio "Home: The Things We Carry"
Spring 2020 Student Artists
(Due to COVID-19, the 2020 CSUMB Artists in Residence did not have the opportunity to complete their projects, hold their annual exhibit at MRWMD, nor present their final project to the MRWMD Board. So, we wanted to share a little more about their backgrounds, their project concepts, and "works in progress" and contacts. They each are amazing, strong, expressive artists. Enjoy.)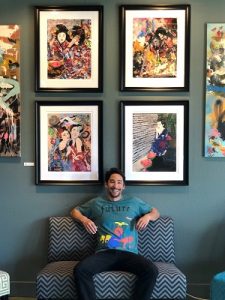 Monterey and the complex history of my Japanese American heritage here, has deeply shaped my identity and so shaped my work. Four generations deep, I am rooted here like the cypress' that line the coastline. People may have tried to push us out, but we persevered. Inspired by the breathtaking beauty of the peninsula, the charm of its inhabitants, the nature, people, and social issues of the past and present are my muse.
I create mixed media paintings and collages that float in between abstract and realism, using impasto strokes, heavy medium and personal experience. My subjects tend to gaze back at the viewer and tell a narrative though woven symbolism. My work regularly consists of collaging materials that carry deep personal meaning. The use of layers in my work is very important. With each additional layer of paint, medium, fabric or wax, builds up layer by layer to create both a physical and metaphorical representation of the effect of time and meaning.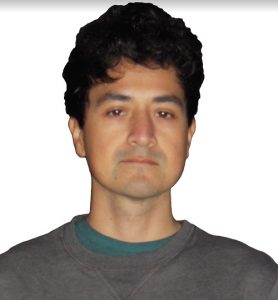 I work with sculpture, acrylic on canvas, illustration, and digital painting. My goal is to create dialogue about environmentalism, social issues, human condition, and vulnerability, by exploring themes of nature, politics, self-reflection & imagination.
For the past year I have been exploring a series that I named Inheritors, which involves young men and women wearing ancient dinosaur skulls worn as crowns and headdresses; the skull crowns representing how the new generation is inheriting the throne of responsibility from the old—hence the bones. This shows them inheriting positions of power—being governmental/legislative, as well as the power which a leader of social change holds. These people, my generation, are leading the way to solve issues about climate change, poverty, and social injustice. They will be wearing the crowns now.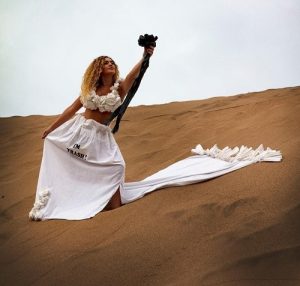 I'm a multidisciplinary artist who focuses on recycling and upcycling materials which I then turn into fashion as sculpture tableaus. I'm inspired by the texture of John Bramblitt, color palette of Thomas Deir and construction of Iris Van Herpen.
The goal of my artwork is to create a conversation around how people can recycle more in their daily lives and hopefully I'll inspire some to start upcycling their furniture & clothing themselves. Recycling material has always been a theme in my artwork.
This residency (the CSUMB/MRWMD Artist in Residence), was an amazing opportunity for me to create new work on a much larger scale and to continue to do what I've always done, which is upcycle furniture & fabrics. The Last Chance Mercantile is one of my favorite secondhand stores that I shop at on a weekly basis to find the materials I use for my artwork.
The incorporation of passion and topical issues are relevant throughout my body of work.
Spring 2019 Student Artists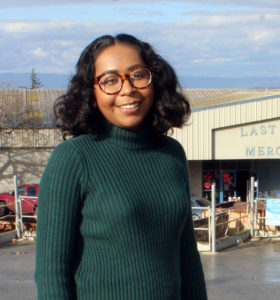 I am interested in repurposing the materials found at the Monterey Regional Waste Management District in my art. I am especially interested in how using the materials that is someone's trash can be converted into art that someone else might enjoy. I am curious how using the materials in my own art practice create the natural background in an image. I would like to explore how waste that is not such an afterthought after it is thrown in a trash bin can be used for a natural background that is an element of a piece that is sometimes overlooked but is necessary to bring a work together. Creating a natural landscape, something we are all striving to preserve and bring attention to through projects and programs like this one, out of trash, is a beautiful irony I would like to be a part of. Using material from the Waste Management District in artwork that would essentially be preserved made from waste that will change and not keep its present form.
I am interested in using waste materials to make scenes that normally have no relation to human waste to bring attention that we create waste in every aspect of our lives and to be more mindful of our actions. The specific work I want to create involves imagery of angels and the places these events take place are primarily seen as clean and holy, never involving waste. I want to explore the relation of creating holy, clean images with material found at a waste management district and how to create something beautiful and pure out of the impure.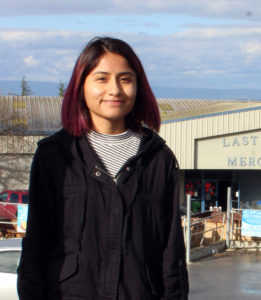 The Monterey Regional Waste Management District offers various services that interest me. The first one is the Last Chance Mercantile. It is a wonderful and resourceful business because it gives materials that are not seen as valuable anymore a chance to be upcycled. This is an environment I aspire to be a part of because it is important to know, firsthand, how our landfills are being affected by waste, and learn how reusing materials helps our environment. Which leads me to my second interest, the Household Hazardous Waste Collection Program. I want to learn about hazardous waste and how to reuse it. As an artist, I create with materials such as spray paint, acrylic paint, and oil paint and my main concern is how to properly dispose of it or reuse it.
For my capstone project, I plan to create a body of work that represents the beauty of the Central Coast and the ugliness that man creates. I plan to do this by recycling hazardous waste, salvaging materials, and incorporating them into my project. This opportunity will lead me in the right direction because I will learn how to find reusable materials and how to work with them, as well as become a conscious creator and disposer. Through this experience, I will learn to adapt to new environments, as well as become informed about our landfills, thus being able to inform others. Working with a new community will develop my communication skills and environmental knowledge, which I hope will enlarge my capstone audience.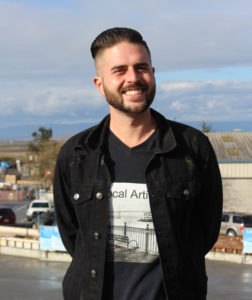 I have been interested in environmental issues ever since I was little, and my parents showed me the impact you can make in this world with your art. They were both practicing artist and teachers in San Jose, California who incorporated the environmental impact we make as humans into their artwork and classrooms in the 80's, 90's, and 2000's. After my mother passed away when I was 15, I  really dedicated my time to making art that was directed towards recycling and preserving the oceans because I felt like I was continuing the tradition my mother left behind of being environmentally conscious and showcasing it in every aspect of our life.
I recently created a sculpture titled "Plastic Legacy" for CSUMB'S Site Specific Six Exhibition where I collected plastic that I had found on the beaches of Monterey and sculpted it into a Godzillaesq creature. I was trying to symbolize the monster of a problem we are creating in our oceans with our single use, consumer lifestyles. I also made a video projection, which included footage of actual environmental disasters (BP oil spill, Garbage Patch in oceans), as well as performance pieces that I recorded of myself and my family showing how we contribute to these environmental issues in our everyday lives. I truly loved making that piece and enjoyed the whole process of creating it. My fingers/arms were scratched/cut while constructing it, my eyes swelled up when part of it got broken during transportation and I was running around sweating during the installment making sure everything was perfect. I had put my blood, sweat and tears into this creation and I never have had such a rewarding experience. I truly enjoyed explaining my sculpture and my passion for preserving the planet to the students and fellow artists who saw it at the exhibition.
I would love to continue this concept and make a sculpture of a broken world with a face on it. I am a black and white 35mm photographer and I would like to document the MRWMD facility and print my picture onto fabric that I will use to create a "space" where people can walk into and see my sculpture and video projection. I really enjoyed making the video performance and would like to incorporate another video projection.
Spring 2018 Student Artists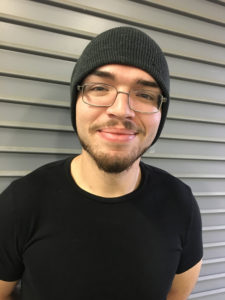 My name is Richard J Sotelo Jr and I am a Visual & Public Arts Senior Capstone Student attending Cal State Monterey Bay. I will be graduating this Spring and moving forward towards my MFA while simultaneously making art for the public realm that has far more emotional value than monetary.
My goal as an artist, and for my Capstone Project, is to produce work that engages my audience's emotions so that they are able to accept hard truths about our society and/or aspects of themselves that they had not been able to realize beforehand. My life prior to college had been filled with an array of adversities that made the human experience seem very bleak. Even with all the trouble that occurred to me though, I cannot argue that fact that it didn't teach me that most people want to help others who are experiencing turmoil, but don't know how, who, with what, or even when.
I aim to induce epiphanies through my paintings and installations that ease people into realizing their effect on the lives of others. I want my audience to project themselves into the shoes of another so that they themselves can establish a form of empathetic understanding between someone else's human experience in relation to their own. Some of these lifestyles are easier to traverse, some of them are far more difficult, but my work's ultimate goal is to build bridges between people that would have never interacted beforehand because of fear of the unknown, a vast economic gap, or sheer ignorance. Once those walls that blind us are taken down then we can progress into helping one another in a much more efficient and humanizing way.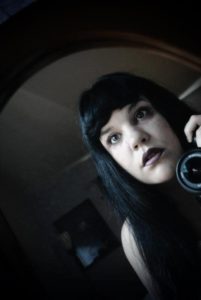 Hello. I am Ashley Vaughan. I was born and raised in Santa Cruz, California on the shores of this beautiful coast. I am a mother, a partner, a daughter and a friend. My practice includes painting, charcoal, mixed media, and collage. I enjoy experimentation in varied media, but most often I work within the realm of photography.
My practice is interested in time and its connection to place. My work is diverse in intention and subject, ranging from historical and documentation based work, such as the photocopy art book and mixed media pieces I have made in dedication to my families legacy, to surreal dreamscape analog photography, such as my Holy Cross and Homecoming photo series. The bulk of my work uses the photograph to explore emotions surrounding my own experience with mental health, and the processing of loss. I also explore the topics of race, class, and gender both from historical and contemporary perspectives. Typically working with 35mm black and white film, I create beautiful dark dreamscapes, which represent these explorations.
Spring 2017 Student Artists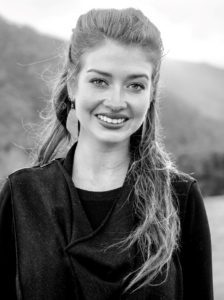 Katie Savage is a local mixed media artist with a passion for nature and   community. Her art focuses on many mediums, however she primarily creates sculptural installations. By mixing natural materials with found objects, the environment has become her muse. Katie's art often highlights the relationship we have with nature and our planet. She has a degree in Visual Communications and will graduate with a degree in Visual and Public Art in May. Katie is the art director of an event production company called Luvlab Productions, and produces a three day music and art festival called Big Surreal.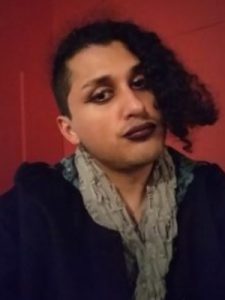 Victoria Adrianna Osoria is a Transfeminine artist, activist, and poet. She mainly creates Mixed Media 2-D and 3-D works that encompasses gender, mental illness, the body, horror, politics and a vast array of other topics.  She is graduating from CSUMB, spends a lot of time volunteering in Salinas with LGBT youth as well as creating a community there and is a huge advocate for radical politics.
This current work is an Installation called Altares to my Person that uses material from Last Chance Mercantile and Waste Management Facility as well as traditional art materials, such as clay, acrylic paint, to create my own personal journey into reconciling, my Mexican, religious, and gender identity into a work that reclaims the Altar and Trans peoples places in Post-Colonial American Society."
Spring 2016 Student Artists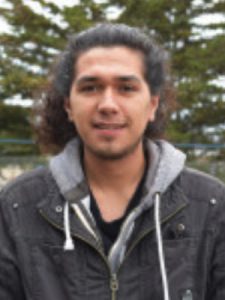 I'm a conceptual artist who enjoys challenges both mentally and physically. My works of art mainly consist of paintings, but I also enjoy sculpting. Although I mainly work with these mediums, I feel that my true talent is in drawing with pencils & markers, as well as photography and installation. With photography, I feel that I can truly capture the moment itself without adding in my own emotions. With painting, I feel the most creative only being limited to the amount of paint I have. Mixing the actual objects with my creativity of organizing the objects I get installation. With installation, I can move the captured moments around to fit my own personal creativity to get the most of each item while creating a larger picture. Although I am a conceptual artist, I feel that talking about the simple things, depicting what everyone can relate to, which has a bigger impact on the audience as a whole, rather than trying to present a huge complicated piece. In my mind, less is more when trying to communicate with others. With art I can express that simplicity, while at the same time adding as much detail into each individual section of the work as I can. I do all this through patience, for I know in the end it will be worth all the time I spent into it.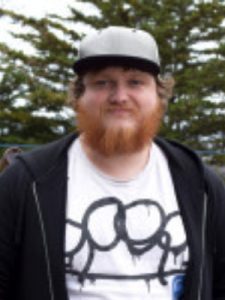 The artist in residency program would be a fantastic opportunity for me and fits well with my art style. I like to create art using the same object many times and creating a sense of movement from an object that is immobile. If I am selected for the residency program I will explore the Waste Management Facility for an object (preferably in large quantities) and piece them all together in an organic way. My idea for the site is to create abstract "plants" that are made out of organic and inorganic materials to follow a theme of a forced evolution, in which the plants around us have to become stronger and less organic just to survive in a world that humans are slowly destroying. What I make will depend on the objects I find at the waste management facility but they should have the ability to work together with the same type of style as the sculpture next to them.
After I graduate I want to pursue a career in art and apply to other artist in residency opportunities. Being selected to be in residency at the Waste Management facility would aid me as I apply for other art commissions and residencies. As a Visual and Public Art student I am thrilled at the idea of being to create art out of "trash" and show the community that some of the things that they discard have far more artistic potential than they may have thought.  This can bring light to the problem of excessive waste in the United States and the rest of the world. Thank you for the opportunity to apply.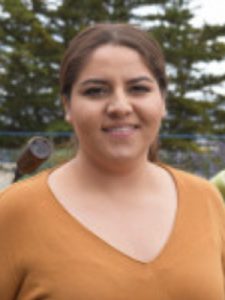 As an artist I feel the urge to create. The Artist Residency at Monterey Regional Waste Management District (MRWMD) would give me the opportunity to crate art beyond the ordinary. The kind of art that could be appreciated after it has been transformed. Art work that will make a statement. Transforming disposed items and giving them a new identity. I want to learn more about environmental issues as well educate others. I don't see a better way of doing it than through Art. My goal will be to make visible what is overlooked.
As a member of Monterey County, this partnership will help me to incorporate myself in the community and build strong relationships. This residency would be a new challenge for me. Pushing my mind to see things in a different perspective. It would allow me to build on my artistic abilities in working with 3D art and Mixed Media. I want to take my personal identity and community as inspiration and use it to create a unique body of work. The MRWMD residency would help me build my career as a professional artist. This partnership can provide me with the opportunity to enhance my own personal artistic style, as I create artwork that will speak for itself. I would like to take the skills I have learned throughout my undergraduate education and put them to work in the field. I realize it will be a difficult task but I know that I have the potential to succeed, all I need is the opportunity.
For Program Information:

Contact:
MRWMD Public Education Team
at 831-264-6382
P.O. Box 1670Marina, CA 93933
*MRWMD Service Area Includes the following jurisdictions:
Moss Landing, Castroville, Marina, Seaside, Del Rey Oaks, Sand City, Monterey, Monterey-Salinas Highway area, Pacific Grove, Pebble Beach, Carmel, Unincorporated Carmel, Carmel Valley, Carmel Highlands, and Big Sur