REUSE
We believe reuse is an important strategy to extend the life of products and reduce waste in our landfills. You can participate in reuse by donating used household items to the Last Chance Mercantile or scheduling a home curbside Bulky Item Collection through your recycling hauler.
Last Chance Mercantile 
For over 25 years, the Last Chance Mercantile (LCM) has been a unique entity within the waste management industry and a favorite shopping place for treasure and bargin shoppers from all over, supported by the fact it's been Voted "Best Eco-Friendly Business" by Monterey County Weekly readers many times. Rather than throwing away reusable goods, the LCM is the place to donate them. Additionally, hundreds of tons of materials, each year destined for the landfill are given a last chance when they are sold at the store. In 2021, the LCM officially became a benefit shop, now operated by the Veterans Transition Center of California,  donations and goods sold now, not only benefit the planet, but people too.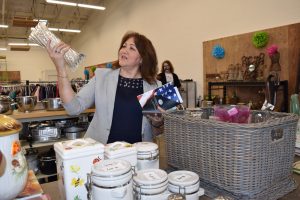 Donations 
Rather than throwing away reusable goods, consider donating them to the LCM; by doing so you help people and planet, by providing affordable goods to others, supporting our local green economy, and keeping usable resources out of the landfill. The Veterans Transition Center, the operators, are a nonprofit, so your donations will have tax-deductible status.
Last Chance's donation gate is open Tuesday to Saturday from 9 a.m. to 3:30 p.m. in the designated drop off area just past the store entrance. Please visit www.lastchancemercantile.org for donation acceptance list and criteria. Additionally, reusable goods coming through Home Curbside Bulky Item Collection Service will be directed to the Mercantile for a "last chance".
Bulky Item Collection
Single-family residents are eligible for one or more free curbside bulky item collections (BIC) for furniture, mattresses, e-waste, appliances, or miscellaneous household items. Multi-family residents may also be eligible. See information below or check with your hauler for complete details. Bulky Item Flier
GreenWaste Recovery, 831.920.6707, www.greenwaste.com
Serving: Carmel-by-the Sea, Del Rey Oaks, Marina, Pacific Grove, Pebble Beach CSD, Sand City, Seaside
Monterey Disposal/ 831.372.7977/ www.montereydisposal.com
Serving: City of Monterey
Waste Management, Inc./ 800.321.8226/www.wm.com
Serving: Unincorporated Monterey County
*MRWMD Service Area Includes the following jurisdictions:
Moss Landing, Castroville, Marina, Seaside, Del Rey Oaks, Sand City, Monterey, Monterey-Salinas Highway area, Pacific Grove, Pebble Beach, Carmel, Unincorporated Carmel, Carmel Valley, Carmel Highlands, & Big Sur