MRWMD Landscape Products Helps You Grow Greener Gardens
MRWMD landscape products are made locally and contain recycled content. Wood chips are made from recycled untreated lumber. Gabilan Compost is produced at the MRWMD site from composted yard trimmings and locally sourced agricultural by-products, such as mushroom compost, and grape pumice. It is reviewed annually by the **Organics Materials Review Institute for organic use. Soil products are also produced locally and distributed by Keith Day Company. Sand is harvested and sold by Don Chapin Construction Company from the MRWMD site.
---
The Benefits of "Green Gardening" Products
The benefits of buying and using MRWMD's "Green Gardening" products are many. Along with reducing a significant amount of organic material going into the landfill, the purchase of these products support the local "green" economy.
They also:
Provide affordable soil amendment and attractive ground cover
Build healthy and productive soil
Help conserve water & deter weeds
Reduce need for herbicides & synthetic fertilizers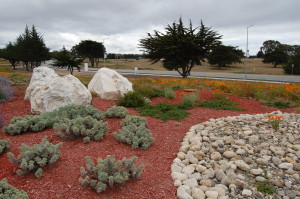 Buy by the Ton or Bag
Compost & Landscape Products are sold by the ton (truckload) and by the bag (self-serve).
Larger weights are available through the MRWMD Scales. (MRWMD provides free loading.)
M-F, 7:00 a.m.- 4 p.m. & Sat. 8 a.m.-4 p.m.
Please note that for bulk purchases it is recommended that you arrive by 3:30 p.m. to allow time for loading
and completing your transaction at the MRWMD scales.
Customers are responsible for properly securing (tarping) their load.)
Self-Serve Bags available at the Last Chance Mercantile Tuesday – Saturday, 9 a.m. – 4 p.m.
Product Information and Pricing
LANDSCAPE PRODUCTS

Rate Per Ton

Min. Charge

Per Bag

Wood Chips: Made from chipped, untreated, unpainted construction lumber. Colored chips are produced off site.
Uses: Aesthetic ground cover, paths, and "Sheet Mulching" to replace lawn, deter weeds and conserve water.
(Approx. 1″-2″ and smaller)
*Colored Chips- (Approx. 1″-2″ and smaller)
Natural $50
*TerraCotta $150
$20
$20
$4
$6
Gabilan Compost is produced by Keith Day Co. dba: Gabilan Ag Services and is registered with the CDFA-OIM  It is made from 100% organic material, such as mushroom compost and yard trimmings.
Uses: Amend soil in landscape and growing beds, mulch, top dress and mulch around plants and trees, use in planting mix.
$50
$20
$5
Potting Soil: Mix of sandy soil (20%), humus (65%), and other organic material.Uses: Potting new plants or re-potting plants that need larger containers. Also use for vegetables, herbs and other outside container gardens.
N/A
N/A
$5
Top Soil: Mix of sandy soil (40%), humus (30%) and 30% organic material.Uses: For lawns and gardens.
$50
$20
$5
Fill Sand – Harvested from MRWMD site
Contact Don Chapin Company
at 831-449-4273
Firewood -Tree material only. Uncut.
$20
$10
N/A

# Loading included, except for sand and firewood.
* Amerimulch Colorant Information
http://www.colorenrichedmulch.com/is-colored-mulch-safe.php
**The Organic Materials Review Institute (OMRI) supports organic integrity by providing organic certifiers,
growers, manufacturers, and suppliers an independent review of products intended for use in certified organic
production, handling, and processing.
Calculating How Much You Will Need
The type of project and the size of your area will determine the amount of material you will need. MRWMD sells the product by weight vs. cubic yard.
You can use the following conversion table to help calculate how much you will need.
Ton/ Cubic Yard Conversion

1 Ton = Cubic Yards
1 Cubic Yard = # of Pounds
Sand
.77
2,600
Compost
1.4
1,400
Topsoil
1.3-1.5
1,500
Woodchips
5
400
Recommendations For Compost Applications

(Cubic Yards Needed for Depth of Compost)

Sq Footage

Compost Depth

Yards Needed

Tons

1000

2"

6

4.2

500

2"

3

2.1

250

2"

1.5

1.05
To learn how and what is needed to convert your lawn you might want to use the Bay Friendly Gardening Calculator found at: http://www.stopwaste.org/preventing-waste/mulch-calculator
and check out the "Sheet Mulching Information" sheet. (link to Sheet Mulching PDF )