Household Hazardous Waste (HHW) includes waste – chemical and solid – generated incidental to maintaining a residence, small business, vehicle and yard. It carries labels which indicate that it is harmful to humans, animals and/or the environment.
Household Hazardous Waste also includes other types of regulated waste:
Universal Waste (batteries, fluorescent bulbs, items with mercury, etc.)
Electronic waste (computers, televisions, cell phones, etc.)
Health Care Products (medications & sharps)
For more information about HHW and regulated waste visit www.dtsc.ca.gov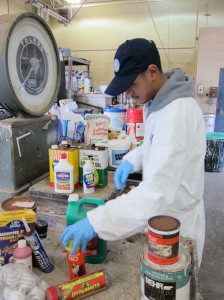 ACCEPTED MATERIALS
Products containing hazardous ingredients and labeled with words such as "danger," "poison", "flammable," "corrosive", "toxic" are accepted.
The following are examples of accepted material:
HOUSEHOLD PRODUCTS
Cleaners
Aerosols
Solvents
Kerosene
Pest control
Cooking Oil
PAINT PRODUCTS
Paint
Stain
Varnish
Thinner
Adhesives
OUTDOOR PRODUCTS
Pesticides
Herbicides
Fertilizers
Pool & hot tub chemicals
Roofing cements
Sealers
AUTO PRODUCTS
Fuel
Motor oil
Filters
Cleaners
Solvents
Antifreeze fluids
Batteries
PERSONAL CARE
Over-the-counter medications
Sharps and needles (requires certified container)
UNIVERSAL WASTE
Household batteries
Fluorescent bulbs
Mercury bearing items
ELECTRONIC WASTE
(E-Waste drop-off located at the Last Chance Mercantile)
CRT Monitors
TVs
CPU
Computer peripherals
Copy & fax machines
Cell phones
Scanners/printers
MISCELLANEOUS
Propane tanks (Up to 5 gallons)
Photo development products
Electronic toys and shoes
Lead
Asbestos (Nonfriable only. Must call for special instructions for transport.)
For information on other items, call the HHW Facility at 831-384-5313 ext. 27