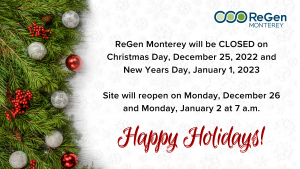 Our facilities will be CLOSED on Christmas Day, December 25, 2022 and New Years Day, January 1, 2023. Site will reopen on Monday, December 26 and Monday, January 2 at 7 a.m. Thank you for your understanding.
Happy Holidays from everyone at ReGen Monterey. We hope your holidays are filled with joy and laughter through the New Year.
…………………………………………………….
Nuestras facilidades estarán CERRADAS el día de Navidad, 25 de diciembre de 2022 y el día de Año Nuevo, 1 de enero de 2023. Las instalaciones volverán a abrir el lunes 26 de diciembre y el lunes 2 de enero a las 7 a.m. Gracias por su comprensión.
ReGen Monterey les desea a todos unas felices fiestas. Esperamos que sus vacaciones estén llenas de alegría y risas a lo largo del Año Nuevo.